Pennsylvania's First Re-Entry Mental Health Court
Honorable Leon W. Tucker Supervising Judge
LOCATION
Mental Health Court is in session every Thursday in the

Courtroom 504
1301 Filbert Street
Philadelphia, PA 19107
(Unless Otherwise Noted)
PROGRAM MISSION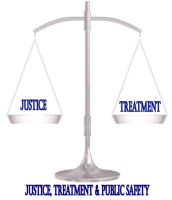 The First Judicial District Mental Health Court (FJDMHC) provides an alternative to incarceration for non-violent offenders with mental illness and co-occurring disorders by preparing individuals for re-entry into more effective treatment modalities in supervised community settings. The FJDMHC aims to reduce the jail population and criminal justice costs by balancing justice, treatment, and public safety.
PROGRAM GOALS
To facilitate the re-entry of offenders with mental illness from incarceration into supervised community treatment settings.
To provide treatment, housing, benefits, and community support services for defendants with mental illness.
To reduce recidivism by defendants with mental illness.
To support effective communication between the criminal justice and mental health systems.
To preserve public safety.
ELIGIBILITY REQUIREMENTS
Defendant is currently serving and/ or awaiting sentencing on a felony case.
Defendant is charged with non-violent offenses.
Defendant meets the medical necessity criteria for Intensive Case Management services.
Defendant is a Philadelphia County resident.
Defendant is Medicaid eligible.
Defendant must have at least 12 months of court supervision remaining.
Defendant is willing to comply with court supervision through the Department of Behavioral Health and Intellectual disAbility Services Targeted Case Management Unit (DBHIDS-TCMU).
Participants must follow any rules the court may impose.
INFORMATION
For further information on the Mental Health Court please contact:
Patricia Wilson
Mental Health Court Coordinator
Court of Common Pleas
First Judicial District of Pennsylvania

1301 Filbert Street, 206 E
Philadelphia, PA 19107
Telephone (215) 683-7018
Fax (215) 683-7510
MHC@courts.phila.gov